Flight Lieutenant Arthur Frank Vokes Battle Of Britain Collection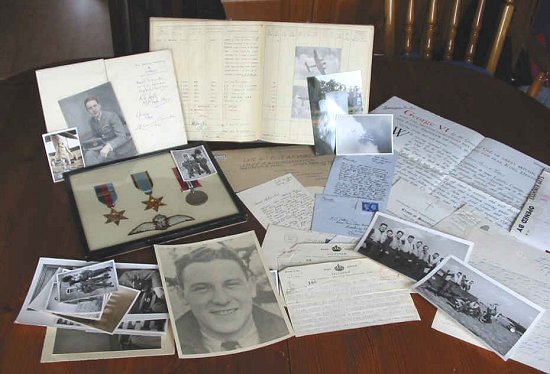 One Of "The Few"
Flight Lieutenant Arthur Frank Vokes
CO Squadron 19
Killed in his Spitfire - September 5th, 1941
see larger scan of above here
A "RARE" collection of Battle of Britain Memorabilia.
We have the pilot's original flying logbook, medals, photos, letters,
commission and many other documents of Flight Lieutenant Arthur Frank Vokes.
Vokes, from Erdington, Birmingham, worked in a local bank and joined the RAF
Volunteer Reserve before the war. Having learned to fly at Sywell, he was called to full
time service in September 1939. His service flying training was completed as an army
co-operation pilot, but as losses mounted during the Battle of France, Vokes was
converted to Spitfires. In June 1940 he joined 19 Squadron at Duxford, the RAF's first to
be equipped with the legendary Spitfire. Vokes would fly throughout the Battle of Britain
in 'A' Flight, until September 5th, 1940, led by Flight Lieutenant Brian Lane DFC, who has
signed the logbook several times. On that date the CO, Squadron Leader Phillip Pinkham
AFC was KIA, and was succeeded by Lane. Flight Lieutenant Walter Lawson then took
over the flight until he later succeded Lane as CO. During the Battle of Britain 19
Squadron flew from Fowlmere as a part of Squadron Leader Douglas Bader's
controversial Duxford 'Big Wing', and Vokes flew many sorties. He flew, for example, on
Battle of Britain Day, September 15th, when his logbook records 'Hundreds of Jerries', and
on which day he damaged a German Bomber. In November, 'A' Flight shared in the
destruction of an Me 110, and this collection includes a letter from Vokes
to his parents, still in the original envelope, describing the incident. Vokes later became
commander of 'A' Flight, in 1941, and flew on the offensive operations of that year.
During a raid on Rotterdam in August 1941, Squadron Leader Lawson DFC was killed,
and the 'B' Flight commander, Flt Lt Wallace Cunningham DFC, was shot down and
captured. The following day, Vokes led 19 Squadron on an ASR search of the North Sea,
but the Spitfires were bounced by a formation of Me 110s. Several were shot down,
making this a disastrous time for 19 Squadron. Vokes then became Acting CO, but a few
days later on September 5, 1941 he was killed in a flying accident when his Spitfire flew into high ground,
in low visibility. He was buried at Bircham Newton, Norfolk, where his grave can be seen today.
It was Vokes's story that inspired Author and Historian Dilip Sarkar, to write 'Spitfire Squadron'
(Air Research Publications, 1990), 'The Invisible Thread: A Spitfire's Tale' (Ramrod
Publications, 1992) and the 'Battle of Britain - Last look Back' (Ramrod Publications, 2002)
The logbook is superb, and is signed by such Battle of Britain
notables as Brian Lane DFC, Walter Lawson DFC and Squadron Leader (later AVM)
Harry Hogan DFC (CO of 501 Squadron). The collection includes a letter to Vokes's
parents from Wallace Cunningham DFC, written from POW camp, telegrams concerning
Vokes's death and burial, his will, death certificate, certain letters, his commission, medals
(1939-45 Star with Battle of Britain Bar, Aircrew Europe Star & War Medal). These were
framed by Vokes's mother during the war together with her son's Wings. Also included are
many photographs, including hand colored photos, portraits of Vokes and a copy of
Brian Lane's wartime classic 'Spitfire: The Experiences of a Fighter Pilot'. This book is signed by a number
of 19 Squadron Battle of Britain pilots, including the late New Zealand Pilot Wing Commander Frank
Brinsden. Arthur Vokes is mentioned many times in the book.
Vokes mother in 1942 added some notes regarding the book and a poem "The Spitfire".
Another handwritten note from Mrs Vokes regarding the Identities of pilots and other
19 squadron personnel in the book Spitfire.
It is also worth noting that the logbook really is a superb example, packed with
detail, photographs and humorous cartoons.
The Vokes logbook and other items from this collection were displayed by the
Imperial War Museum at Duxford Airfield in 1998, in a 19 Squadron exhibition
commemorating the 60th anniversary of the Spitfire being delivered to squadron service at
that station. In 2000 the logbook, medals and other items were once again loaned to the
Imperial War Museum for inclusion in the 60th anniversary of the Battle of Britain
exhibition at Lambeth, 'Spitfire Summer'.
An extremely rare and historic grouping
Click below to view large scans of Logbook Pages of interest
Logbook
Page 1
Page 2
Page 3
Page 4
Page 5
Page 6
Page 7
Page 8
Page 9
Page 10
Page 11
Killed in Action Stamp in Logbook signed by OC
There are many more pages similar to above
Official 1946 document releasing logbook to family
79559 Flight Lieutenant Arthur Frank Vokes

Vokes was born at Erdington, Birmingham, in 1917, the son of a civil engineer. Before the war he worked for a local bank, and in 1938 joined the RAF VR. Having learned to fly at No 6 EFTS Sywell, his elementary and service flying training was completed on August 31st, 1939. On September 11th, he commenced a flying instructor's course, but, having been called up for full time service on October 18th, reported to ITW Cambridge, remaining there until October 24th. On November 18th, he arrived at No 15 FTS, Lossiemouth, to fly Harvards. Remaining there for the winter, April and May 1940 saw Vokes receive instruction at 8 FTS Montrose where he received a rating of 'above average'. On June 1st he reported to No 1 School of Army Co-operation at Old Sarum, flying Hector and Lysander aircraft. Vokes then volunteered for RAF Fighter Command, subsequently learning to fly Spitfires at No 5 OTU, Aston Down.

On June 22nd, Pilot Officer Vokes reported to 19 Squadron at Duxford (Fowlmere). This unit was the first in the service to receive the Spitfire, and had already seen action during Operation DYNAMO. The CO at this time was Squadron Leader Phillip Pinkham AFC, and the Squadron included such notables as Flight Lieutenant Brian Lane DFC and Flight Sergeant George 'Grumpy' Unwin. At this time the Squadron was equipped with the experimental Spitfire Mk IB, which was armed with two 20mm Hispano-Suiza cannon. So troublesome would these prove, however, that the unit later swapped the IBs for machine-gun armed Mk IAs.

Vokes flew with 'A' Flight, led by Flight Lieutenant Lane, and was flying on August 13th when Duxford was heavily bombed. He also flew on August 18th, the so-called 'Hardest Day', and on August 31st, the day of Fighter Command's heaviest losses, he was with 19 Squadron when a large German formation was intercepted near base. On September 5th he chased an Me 110 out to sea, but without conclusive result, that being the day on which Pinkham was killed in action. Command then passed to Lane, Vokes's flight commander becoming Flight Lieutenant Walter 'Farmer' Lawson.

On September 7th, 19 Squadron flew top cover to two Hurricane squadrons, the entire formation being led out of Duxford by Squadron Leader Douglas Bader. This was, in fact, the first time that the 12 Group 'Big Wing' went into action, and the first day on which the Germans started round-the-clock bombing of London.

On September 9th, Vokes was in the 'Big Wing' formation over London and claimed a damaged Do 215. He also flew on September 15th, later recognised as the battle's climax and a date celebrated annually as 'Battle of Britain Day'. Although Vokes's Spitfire was damaged he claimed a probably destroyed Me 110.

On November 5th, he was flying with Flight Sergeant Steere DFM, who got a '109 cert', and Flight Lieutenant Lawson DFC who 'blew another to bits with the cannon'. On November 15th, Vokes's section, comprising the CO, Squadron Leader Lane, and Flight Lieutenant Wallace 'Jock' Cunningham DFC, chased out over the sea and destroyed an Me 110.

During the winter of 1940/41, whilst the blitz raged, Vokes made a number of nocturnal patrols on 'Fighter Nights', but without success.

On June 20th, 1941, Squadron Leader Lane was rested, and command passed to Lawson. Vokes succeeded him as commander of 'B' Flight, and Cunningham became 'A' Flight commander. The Squadron participated in the 'Non-Stop Offensive' of 1941, Vokes flying on a 'Circus' to Lille on June 27th, when he damaged an Me 109.

On August 28th, 19 Squadron escorted Blenheims to attack enemy shipping off Rotterdam. The operation was a disaster: Lawson was shot down by an Me 109 over the North Sea and remains 'Missing', and Cunningham, hit by light flak, forced landed on a beach and was captured. Vokes then became Acting CO and, the following day, led the Squadron on an ASR for the two missing pilots, both close personal friends of his. Unfortunately the Spitfires ran into a large formation of Me 110s practise bombing over the North Sea, and came off second best in the ensuing combat. From the sortie, four Spitfire pilots failed to return.

A week later, the Squadron now based at Matlask in Norfolk, Vokes ignored advice and took off in low cloud and nil visibility to ferry a Spitfire, P8166, from Coltishall back to Matlask. Unfortunately he descended through cloud at too steep an angle and crashed near Langham aerodrome. The 24-year old was killed instantly.